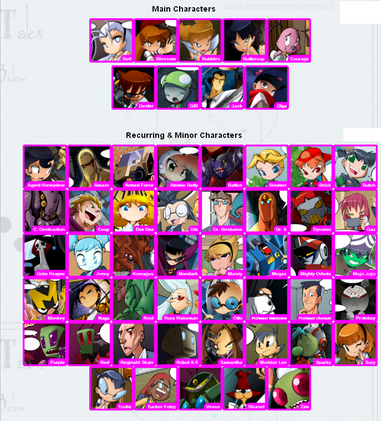 these are the List of PPGD charcters in the comic (not yet complete).
This page is a STUB,
it needs a lot 
of EXPANSION for 
the full sources 
see: Characters.

Please don't add some 
Fanon articles for the SAKE 
of the PAGE please!

Main characters
Edit
Secondary
Edit
Supporting,Minor and Reccuring character role
Edit
To be added.
Megaville Elementary School Students & Teachers
Edit
Project Rowdy
Edit
My Life as a Teenage Robot
Edit
Sheldon Oswald Lee
Nora Wakeman
Vexus
The Cluster
Other (Side) Characters
Edit
Powerpuff Girls
Edit
to be added.
Darkstar council
Edit
Main article: Darkstar Council & Clusters.
ATTENTION: Some articles contains non-canon 
information. This  means it isn't in 
one of the comics and also not planned for the future.
note : * not yet included/Fanon.

for Police and Military faction see:
Rescue teams
Edit
Gov.Agencies
Edit