| | |
| --- | --- |
| | ATTENTION: This article contains non-canon information. This means it isn't in one of the comics and also not planned for the future. |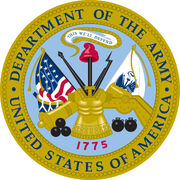 The United States Army is the Military Branch of US Military.
Powerpuff Girls Doujinshi & Grim Tales
Edit
It is Unknown that the US Army will be involved in the PPGD or Battle of Megaville in Megaville along with the MPD (Megaville Police).
The United States Army (USA) is the largest branch of the Armed Forces of the United States that performs land-based military operations; and is one of the seven Uniformed services of the United States. As the largest and senior branch of the U.S. military, the modern U.S. Army has its roots in the Continental Army, which was formed (14 June 1775) to fight the American Revolutionary War (1775–83)—before the U.S. was established as a country. After the Revolutionary War, the Congress of the Confederation created the United States Army on 3 June 1784, to replace the disbanded Continental Army. The United States Army considers itself descended from the Continental Army, and dates its institutional inception from the origin of that armed force in 1775.
As a uniformed military service, the Army is part of the Department of the Army, which is one of the three military departments of the Department of Defense. The U.S. Army is headed by a civilian senior appointed civil servant, the Secretary of the Army (SECARMY), and by a chief military officer, the Chief of Staff of the Army (CSA). When the Chairman of the Joint Chiefs of Staff is an Army Officer, he is the senior ranking Officer in the Army, but retains no operational control of the Army. In the fiscal year 2011, the Regular Army (USA) reported a strength of 546,057 soldiers; the Army National Guard (ARNG) reported 358,078 soldiers, and the United States Army Reserve (USAR) reported 201,166 soldiers; the combined-component strength of the U.S. Army was 1,105,301 soldiers. As a branch of the armed forces, the mission of the U.S. Army is "to fight and win our Nation's wars, by providing prompt, sustained, land dominance, across the full range of military operations and the spectrum of conflict, in support of combatant commanders."