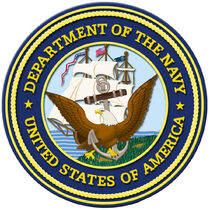 The U.S.Navy is the Navy and Naval branch of United States,will gonna possible appears in the Powerpuff Girls Doujinshi.to help the Girls and their friends.the Battle against the Clusters from DSC.
Powerpuff Girls Doujinshi & Grim Tales
Edit
It is unknown that the Navy along with the Other military branches & the Police are also involved in the Incident in the Megaville Art Center in PPGD & Battle of Megaville in Grim Tales.
The United States Navy (USN) is the naval warfare service branch of the United States Armed Forces and one of the seven uniformed services of the United States. The U.S. Navy is the largest, most powerful navy in the world, with the highest combined battle fleet tonnage. The U.S. Navy has the world's largest aircraft carrier fleet, with ten in service, four in the reserve fleet, and three new class carriers under construction. The service has 325,143 personnel on active duty and 107,355 in the Navy Reserve. It has 272 deployable combat ships and more than 3,700 aircraft in active service as of March 2015.
Community content is available under
CC-BY-SA
unless otherwise noted.